Silver - Shadows BW
Perfectly Silver A great image starts with what we see before we press the shutter. A great black and white finishes with Silver 3, a collection of LR tools dedicated to perfect black & white.

Silver 3: Completely rebuilt for epic black and white.
One Clicks: Bring your image alive with a click.
Zonals: Dynamic tools for game changing light.
3D tints: Just the right hint of hue every time.
Master Mixes: Easy mod presets, total control.
Works in LR4—LR Classic CC and in LR CC
Backed by our Iron Guarantee.
http://seimeffects.com/silver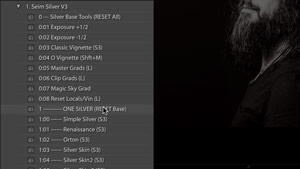 Instant Conversions:
One clicks make the perfect Black and White without leaving Lightroom! You are going to love Silver's fast conversions that get you where you need to go. But you can also customize to your hearts content.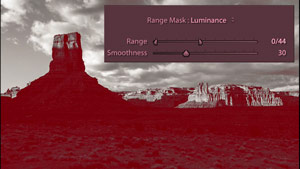 Zonals:
It's all about tone. Zonals use the latest mask features in LR to give you dynamic tone balance that maintains highlight and shadows while giving you deep darks and crisp balanced whites that award winning black and white demands.
Silver 3 Black & White Workshop
What's New in

V3:



— Completely rebuilt presets for richer deeper black and white
— Zonals: Dynamic tools that use the latest masking tools ion LR for game changing tone.
— 3D tints: Just the right hint of hue every time. Now with dimensional tinting using Lightroom latest features.
— Built for workflow. A decade of creating tools for efficiency make made Silver 3 the best yet. Take your days back.
— UPGRADE: Own Silver Shadows 1 or 2? We emailed you an upgrade coupon to SAVE 50% Get in touch if you missed it.

Silver 3 was decade in the making. At version 1 Silver Shadows started as a project to help us get darkroom-inspired black and white without leaving Lightroom. Silver 2 took that further and for years has been an essential tool for photographers around the globe. But as other black and white software started to fade away or get abandoned. Silver 3 is a new generation of black and white. It's a system driven by the simplicity and quality of a Lightroom workflow but inspired by the the nuances and rich tones of film and the masters.

We made Silver 3 more, we created a system to help us fulfill visualizations and us use the entire tonal range like never before. We designed it to help us get back to basics and become more intimate with light than ever before. Silver 3 puts incredible black and white at your fingertips. For batches, for fine art, for images that are perfect in camera and for those that need a bit of help.
Here's what people have to say.